Description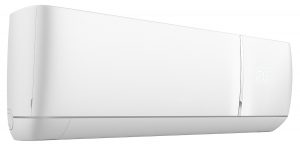 Wall mounted Swan Air conditioners are ideal for smaller areas such as bedrooms and living rooms, small offices and shops. Its position allow to supply the room with an even air flow.
All modern inventions and technological leaps are implemented in Wall units, so they are quiet and most people can sleep quite comfortably with the unit turned on.
Swan wall-mounted split air conditioners are equipped with a variety of options, which are usually installed on high level expensive competing products:
DC inverter – to increase energy efficiency
R32 refrigerant – to reduce greenhouse effect
3D airflow – to increase room air change and overall unit effectiveness
Ionizer – to clean air with negative charged ions of dust, bacteria, pollen, smoke and other allergens
Carbon filter – to clean air of dust, pollen
Golden fin coating of outdoor unit condenser – to increase unit lifetime
Electric heating of outdoor unit drip tray – to guarantee continuous operation in wintertime
WIFI-ready controller – to control device with smartphone
Quick cooling and heating – to get desirable conditions as fast as possible
0.3W standby consumption – to decrease electricity bill significantly
Self-cleaning Plus© – to clean indoor and outdoor units element
Intelligent defrost© – to increase operation range and decrease operation cost
All these options and features increase customer comfort and health, unit lifetime and operation expenses.
Short technical information presented in a table below. More detailed information you could find at Swan catalog.