Description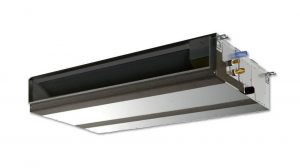 Ducted Swan Air conditioners is the quietest and most versatile of all split systems. They are ideal for almost all installation types – homes, offices, shops, schools, restaurants and any other spaces that require balanced air distribution. Ducted ACs are often the most practical choice for cooling or heating areas that are beyond of wall mounted units capacity. Ducted units allow to provide an air distribution across large spaces easily.
Ducted systems could be retro-fitted. However, it is much better to implement them as part of a building project to ensure that there is sufficient space within the ceiling void or above the suspended ceiling to accommodate the hidden ducted unit.
The only thing to note –  it is not possible to control each grille on a ducted system – the whole system is either 'On' or 'Off'. For this reason, we do not recommend to use a ducted system to cool multiple rooms where people may want different temperatures. If you still wish to achieve the aesthetic advantages offered by a ducted system, we would recommend to install multiple ducted units, which will give each user individual control over the temperature settings.
Swan Ducted Air conditioners offer:
High static pressure up to 160Pa;
Flexible installation with air intake from below or behind;
Optional drain pump with ability to lift condensated water up to 700mm height.
Short technical information presented in a table below. More detailed information you could find at Swan catalog.