Description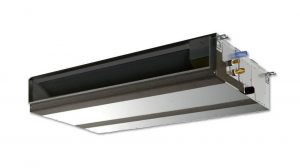 Swan VRF Ducted indoor units are the quietest and most versatile of IDUs. They are ideal for almost all installation types, which require balanced air distribution. Ducted IDUs are often the most practical choice for cooling or heating areas that are beyond of wall mounted units capacity. Ducted units allow to provide an air distribution across large spaces easily.
Ducted units could be retro-fitted. However, it is much better to implement them as part of a building project to ensure that there is sufficient space within the ceiling void or above the suspended ceiling to accommodate the hidden ducted unit.
Swan Air VRF Ducted IDU could be 3 types:
Ultra-slim units with height 185mm, static pressure up to 30 Pa and capacity from 2.2 to 7.1 kW;
Mid ESP units with height 290mm, static pressure up to 80Pa and capacity from 4.5 to 15.0 kW;
High ESP units with static pressure up to 196 Pa and capacity from 11.2 to 56.0 kW
Detailed information you could find at Swan VRF catalog.